Kent Power Pulley Cam Gear - VW Mk1/Mk2 16v
SKU:
Kents extremely lightweight aluminum alloy adjustable cam gear is lighter than stock and is about half the weight of the competition's versions. These gears are essential for dialing in your car's cam timing. Aside from their light weight, other features include chamfered edges and graduated timing scale. By utilizing these Power Pulleys, instead of stock units, you'd be gaining seven degrees of advance or retard adjustment and minimizing weight/load on bearing number one. Also, in reducing the weight of the cam gear (rotating mass) you will gain power. The Kent CA-68 Power Pulley for Volkswagen is finished with blue anodizing finish.
Fitment:
VW Mk1 Scirocco II 16v 1986 1987 1988
VW Mk2 Jetta 16v 1987 1988 1989 1990 1991 1992
VW Mk2 Golf 16v  1987 1988 1989 1990 1991 1992  
VW Mk3 Golf 2.0L-16v (ABF engine)  1993 1994 1995 1996
---
Customer Reviews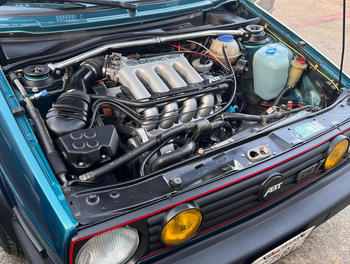 04/07/2022
I recommend this product
Killer Kent adjustable cam gear
Love easy install and quality material. Thanks
Max S.

United States
10/27/2020
Very satisfied
I don't know if any company that provides the wheel as well. Also installed a set of cams from a major manufacturer. The intake cams relief for the woodruff key was not machined in the correct location. The included wheel helped index and trouble shoot the issue. Setup: 16v PL MK1 Digi 2 Cabriolet.
Steve P.

Canada
05/28/2020
High quality timing gear
I received my adjustable timing gear very quickly and in perfect condition. Its a beautiful part and fit perfectly. I will definitely buy from Euro Sport again.
Jacob R.

United States