Euro Sport Cool-Flo Race Air Intake System - Audi A3/VW Mk5 2.0T 2006 2007 2008
SKU:
These are true "cold air" intake systems that situates the filter in the lower front region of the car, away from ALL engine heat. The Cool-Flo Race system utilizes 2.75" mandrel bent steel tubing along with laser cut bracketry. Other features include all tig-welded construction. We supply an ITG Maxogen air filter for the best possible flow and filtration. Factory mounting points are utilized for installation without the need for permanent modification or fabrication. All Cool-Flo intakes come with a Limited Lifetime Warranty to the original purchaser.
Features of Euro Sport Cool-Flo's:

Euro Sport Race Intake Tube
Mandrel bent steel construction
Powder coated finish
Tig-welded

Easy to clean connecting hoses
High temperature resistant
Three ply silicone construction
Oil resistant

Induction Technology Group foam air filter
Three layer reticulated polyester foam element
Pre-oiled with ITG dust retention coating
Optimal filtration of particles as small as 10 microns
LIFETIME WARRANTY

Fitment:
Audi A3 2.0T (FSI Engine) 2006 2007 2008
VW Mk5 GTI 2.0T and GLI 2.0T (FSI Engine) 2006 2007 2008 2008.5

Warranty:
Limited Lifetime Warranty to the original purchaser with proof of purchase.

Notes:
This product is not CARB Exempt.  Fits 2.0T FSI engine cars with timing belt only.

---
Customer Reviews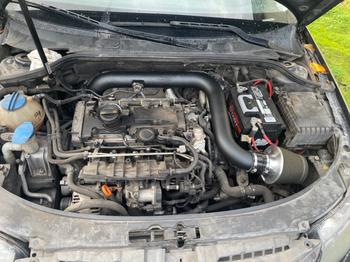 11/19/2021
I recommend this product
Intake purchase Audi a3
Installed in about 20 mins. No issues. Fits great. Sounds great.
david

United States
01/10/2019
Get it!!
Makes the turbo sound good and i feel like i get little more gas mileage. Hardly do reviews so def need to get this! Easy to install **** me 20mins. Highly recommend this if you have a mk5 gti or a audi a3
12/22/2018
Exelente
Muy buen producto.
02/27/2018
Much better setup than the factory intake.
I am extremely satisfied with the product and the pricing.
03/06/2018
Euro Sport Accessories
Thanks for your feedback David :)
07/12/2017
Looks and sounds great! Makes
Looks and sounds great! Makes turbo sounds amazing and keeps the intake temperature cool
08/19/2016
Appearance isn't everything
i will admit it was very easy to install, looks great and sounds great. And for a little over $200 was worth the purchase. They did however find the cheapest worm clamps known to man, which resulted in the frustration to find other clamps. Also do to the construction of the filter and housing I would've preferred there to be a secondary screen before the MAF sensor..
08/21/2016
Euro Sport Accessories
Thanks for your feedback Michael. I am surprised you had problems with the hose clamps since they are stainless steel and OEM quality German made. The MAF sensor on MK5 and MK6 VW's are very durable and a screen is not necessary :-) Thanks again.
05/04/2016
Great intake
I swung by EuroSportAcc's location in Fullerton and picked this intake up yesterday. From the time I purchased the intake to the time I got home and got it installed was just under an hour. The product is awesome and the customer service I got while I was in their store was outstanding.
05/05/2016
Euro Sport Accessories
Actually we are in Anaheim, but thanks for your feedback Blaine, glad you liked it we try our best :-)
03/08/2016
Cool Flo Cold Air
Amazing how something so simple and elegant can improve your performance. Simple to install and instant results.
11/14/2014
Nice Intake
Intake works well and really opens up the car, plus it's nice knowing that the engine can cool down better without the cover retaining all the heat anymore.